Setting the Scene: Diary Notes
What qualifications do I have to write about this subject? In theory, there are people better qualified than me; unfortunately, most of them are wankers. (Harold complained about my use of this word, but was mollified, or perhaps just puzzled, when I pointed out that Kingsley Amis had used it at least once in his novels—though the shade of meaning concerned with fraud is missing from his conventional usage. I also considered whether it was accurate to say he is a 'very great' scientist; perhaps 'stubborn' would do? Or a man who simply adhered to, or rediscovered, old views and ignored new errors? However, I decided 'very great' was right on the grounds that Whistler, looking through some drawings by Beardsley, said he'd been mistaken, and Beardsley was a very great artist; whereupon young Aubrey burst into tears. If Beardsley was a great artist, I think Harold can count as a great scientist). Over what is now almost a decade I have recorded careful conversations on biological topics, and collected printed material, and these, plus computer sources are what I'm drawing on.
We first met, in December 1991, after I'd contacted him, tipped off by Ivor Catt, who, however, had never made any attempt to understand Harold's views. His small lab, at Surrey University, was at the extreme end of a grey-vinyl-tile floored corridor on the ground floor of a 1960s-built technical building, with a card-swipe security system which never seemed to work. One floor above was the photocopy/ lounge/ coffee area. The lab was filled with journals and shelved papers, and things like a resuscitation pump, desiccators, a fridge with samples, gas cylinders, reagents, a gut bath—more correctly known as an isolated organ bath—and boxes of microscope slides. At that time David Jarman worked with him; an amiable man, who had managed to get himself sacked from his previous job, as I understand it, by not paying attention to his union rights, and not getting onto the permanent staff of the institution where he taught pharmacology. He co-discovered beaded fibres in white matter of the brain with Harold. He was always willing to discuss such subjects as pharmacognosy. He had a different view from Harold, maintaining, in effect, according to Harold, that academics were entitled to get away with what they could.
In 1995 Harold's lab was closed, on his retirement, which was I think more-or-less forced by the university authorities: his union representative informed him that, if he were illegally dismissed, he would have to take legal action himself. This marked the end of many years of friction over everything from foreign students being questioned inadequately in their vivas and inadequate equipment being ordered by people with a financial interest in companies, to inadequate control experiments in biological experimentation.
Harold was and is hardworking. (For example, see my poster for his 1998 lecture tour in Canada/US - probably his last. Click here [5K]). But there was an irresolvable conflict between his beliefs and the work he found himself required to do. As with many other intellectual dissidents, he took the view that the proper thing to do is to teach the conventional view, even if it's wrong. Stepping out of line would create difficulties. So, school students should be taught the conventional views. Undergraduates should be taught the conventional views. If they became PhD students, to avoid conflict with their handlers they should still avoid questioning the received views. At any stage on the ladder there would be the risk that an outspoken attack of frankness would bring disaster. The logical conclusion seems to be that dissidents should conceal their opinions until they retired, and in fact Harold duly told me that, when he retired, he intended to "pull out all the stops." I did my best not to smile.
Anyone would imagine that a man with decades of critical work behind him would routinely apply criticism to related subjects, but it's a strange fact, which I've noticed in other such people (see for example Gilbert Ling [25K, plus more]), that this is not the case. Harold accepted the full line on AIDS without any vestige of criticism, despite his possibly unique awareness of the shaky foundations of the 'science' which went into it. He also (e.g.) believed the 1 o'clock BBC radio news provided accurate information about the world. It's possible to construct ad hoc descriptions of such behaviour—perhaps, for example, every person carries around a quantum of scepticism, which cannot be exceeded—but the astounding psychological oddity haunts me, a baffling and incomprehensible mystery.
This attitude is reflected in his works, which in general aren't to-the-point. A perfect example is a lecture he delivered on brain research, in which he didn't state his view that the current work is a waste of time until the very last sentence! Typically—in my view!—to avoid confronting the issue directly, he begins by outlining the traditional view, however wrong it may be. In vain I pointed out that Newton didn't include a preface on Aristotelian dynamics, Vesalius didn't include engravings of structures which Galen wrongly described, and Wallace didn't start with a description of creationism. As the years had gone by, he tried other approaches to presenting his ideas—films and lecture tours—and developed his 'unanswered questions' (below) approach, trying to prompt people into replying to his 'simple' questions. (See below for typical replies). He also planned to talk with heads of public and private research institutes and university departments, with a view to asking them what, if anything, they had achieved, but these efforts in practice amounted to very little despite some valiant attempts.
We had endless disputes over phrasing and vocabulary; while I take the robust view that, once attention has been drawn to a problem, failure to debate it goes straight into the realm of fraud, he coined a new word, 'parafraud', to cover such activities as changing the subject, cancelling lectures, and not answering legitimate questions. He also has an understandable but exasperating habit of not naming names, though, by asking for details of the same story in different ways, I often managed to piece together what he thought had happened. In fact this difference of approach made it difficult for us to collaborate. It remains to be seen whether my approach will prove as unsuccessful as his.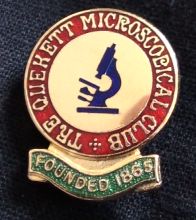 Harold was for many years involved with the Quekett Microscopical Club, which met at the Natural History Museum, London

At the time we first met, he was trying to help establish an organisation, of various suggested names and acronyms, which I'll call ICAF, the 'International Committee for Academic Freedom'. ( Click for details, below ). The ground rules were never thought out; I don't know what their group would have made of Holocaust revisionists, for example, or moonwalk revisionists. And what about military secrets? What about young people? Leafing through their documents, it's not much of a caricature to say that each of them thought his own work important, and was happy to permit the others to work for them, provided they didn't attempt to intrude their own silly ideas. Various oddities surfaced; for example, the 'National Association of Scholars', an obviously worthless organisation which sent a piece the main story of which was that in about 1980 some gays and lesbians wrote to them. A faintly relevant organisation was or is the 'Council for Academic Autonomy', with Bertie Russell's son Conrad a chairman. Russell's book shows he hasn't a clue about the issues). Eventually the embryo organisation died, if it can be said to have ever lived, partly because nobody was willing to do much work for it.
Harold liked committees and spent much time in innumerable meetings of the Royal Society of Medicine, Surrey University's governing bodies, the BMA, Amnesty, the Quekett Microscopical Club in the Natural History Museum, and so on. He would say to me that organisations such as Campaign for Freedom of Information, more or less a one-man outfit, at least superficially, had "influence out of all proportion to their numbers." As far as I could judge, he had little hesitation in using the same tricks he disliked in others; for example, when chairman of Freedom to Care, the story of the bust-up with Dick van Steenis [99K] was never released to the mere members. This organisation also was involved with child abuse victims, but seemed just as much, if not more, concerned with damage to the careers of whistle-blowers. Again, nothing like the full story ever emerged.
(I was impressed, not that it was any of my business, with his tricky financial condition; he would do GP locum work, and show visiting Americans around medical establishments. He toyed with the idea of writing thrillers, which I suspect will remain unpublished. Harold is a cousin of the late Chaim Herzog, twice president of Israel, and author of something like a neo-fascist recent autobiography; Harold told me he was one of the first people in Auschwitz, though in fact Harold's memory was wrong. I was moved once to contact the Israeli Embassy, worried at the spectacle of an original researcher in trouble, though I never told Harold. Naturally, the stupid fuckers did nothing).
The reader might at this point consult Harold's piece 'What Price Intellectual Honesty?'[77K] which I edited and put into HTML format for him. This is a short version of what might have been a long intellectual autobiography. Unfortunately, many names are omitted and many judgements avoid forthrightness.
My best guess at what will happen is that his ideas will be appropriated without credit, and the years of waste, and those responsible, hushed up. I'm reminded of an account of Thomas Hodgkin, discoverer of his eponymous disease, who was a contemporary of Addison and Bright. At Guys Hospital the latter were commemorated with statues, whereas Hodgkin had no memorial. According to his biographer, Rose, the reason was that Hodgkin was outspoken on aboriginal rights and other moral issues. I believe Hodgkin now has something like a cupboard named for him.